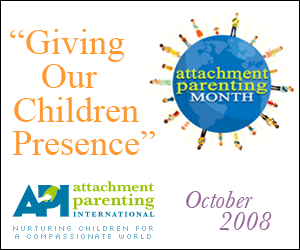 Attachment Parenting International recently declared the month of October Attachment Parenting Month. Last year, AP Month was celebrated in July at AskDrSears.com, but this year they have passed the torch to API.
This year's theme "Giving Our Children Presence" focuses on the benefits of spending quality time with our children, especially in the run up to the very consumer-oriented holiday season. Although all children love toys, it is our presence, not presents, that they truly crave
There are many ways that you can join in the celebration of AP Month. If you're a blogger, join us in our Carnival of Presence during the month of October on API Speaks. Our host an event, which you can register online on the Official Attachment Parenting Month web site.
Even if you don't want to participate in a group event, take a few minutes to think about the value of quality time spent with your children. In today's fast-paced world, a 20 minute break to sit on the floor and put together a puzzle, complete an art project, read together, go for a walk or bike ride as a family, or to share a meal together sometimes seems like an oasis to me, a way I can recharge and get caught up in the exuberant energy of my children. And they always seem to glow when they get undivided one-on-one attention from myself or Matt.
As if the feel-good appeal of time with our children isn't incentive enough, I'll close with a bit of research that touches on how presence can help our children grow into happier, healthier adults:
Cultures high in physical affection; touch, holding or carrying, rated low in adult physical violence. Those cultures rated low in physical touch were high in adult physical violence (Prescott, 1996).